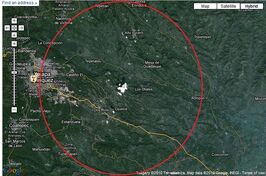 Worldview Industries' K-1 facility is 20 km east of Xalapa, Mexico in a renovated military bunker from the 19th Century.[1] It can house up to 100 staff members for several months without outside support.[2] The facility houses Henry IX's hardware.
The K-1 facility is entirely underground and was originally the site of an old war bunker used by the Mexican military. It was used during various wars spanning the past 150 years and was purchased by Worldview Industries for an undisclosed amount back in 2025. Other than that I can't find anything of importance regarding its location; no ancient stone circle or anything like that.
References
Edit
Ad blocker interference detected!
Wikia is a free-to-use site that makes money from advertising. We have a modified experience for viewers using ad blockers

Wikia is not accessible if you've made further modifications. Remove the custom ad blocker rule(s) and the page will load as expected.